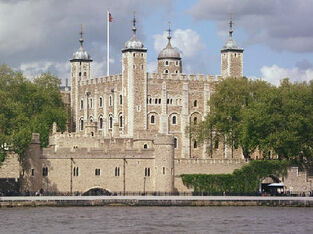 The Tower of London is a settlement for kids in The Enemy series and is run by Jordan Hordern. It is noted for being run military like and producing very effective fighters. The only downside being that it is fairly disconnected from the rest of London.
Layout
The Tower of London is a castle built by William the Conqueror and his son. It is one of the most fortified places in London and perfect for defence. It features many towers and walls, with large patches of grass for food growth, and a moat which occasionally overflows with water. 
Running and System
The Tower is run by Jordan Hordern, a boy of around fifteen, who styles himself as General, and is run much like a military camp. He insures that everyone do two hours of fighting practice each day and that it is run effectively and efficiently and has a cold, iron fist on law. He is helped by his eight captains; each in charge of a certain aspect of survival, e.g. defence, building, food production. 
It is marked as followed; General Hordern > Captains > Other noteworthy children > Other kids.
It is noted for its stern laws and Jordan's unrelenting belief in following those laws, such as no stealing and similar acts. He is keen to make a example of anyone who tries to test these laws and is willing to go as far as execution or exile, though these are the last resort punishments. 
It is all very military styled and a lot of military terminology used, such as regiments and war councils. 
The Eight Regiments are as follows;
Non-Combat;
Sappers - in charge of building and demolishing, they are also in charge of basic maintenance. 
Amourers - Armourers are in charge of clothes, armour and weapons and have to keep them in good condition.
Engineers - the Engineers are in charge of anything mechanical. 
Service Corps - the Service Corps are in charge of food and its stocking and production.
Medical Corps - the Medical Corps are in charge of taking care of injuries and illness.
Combat related;
Tower Guard - the Tower Guard are in charge of keeping the area around the Tower safe and guarding from the walls. 
Tower Watch - they act as a police force, patrolling the Tower and making sure everyone follows the law.
Pathfinders - act as scavengers and go out exploring and discovering new areas, or searching buildings for sickos or food. 
General Life
Life at the Tower is described as rough, but safe and are expected to survive quite well. It is the rules that everyone there do at least on hour of equipment practice and training every day and also must attend all War councils when called, as well as tribunals and Captain Meetings. 
The rules are also very strict with harsh punishments, as shown with Brendan Eldridge. Stealing food is considered as murder. 
The Tower has around sixty kids, with the number rising and falling steadily. It has little to no contact with the outside world and remains unaware of the children surviving in central London.
Kids and Positions
Leader
General Jordan Hordern - Leader; styled as General
Captains/Lieutenants
Captain Ed Carter - Captain of the Tower Guard
Captain DogNut - Captain of the Pathfinders
Captain Tomoki Ford - Captain of the Tower Watch
Captain Reynolds - Captain of the Service Corps
Captain Keren - Acting Captain of the Pathfinders until DogNut's return
Unknown Captain of the Sappers
Unknown Captain of the Armourers
Unknown Captain of the Engineers
Within the Tower Guard
Ed Carter - Captain
Kyle - Tower Guard/Ed's personal bodyguard
Hayden
Will
Macca
Adele
Kinsey
Partha
Katie
Within the Tower Watch
Tomoki Ford - Captain
Within the Pathfinders
Dognut - Former captain
Courtney
Marco
Felix
Finn
Al
Keren
Within the Service Corps
Captain Reynolds
Within the Armourers
Unknown
Within the Sappers
Unknown
Within the Engineers
Unknown
Within the Medical Corps
Unknown
Positions not clarified
Brenden Eldridge
Olivia Channing
Jessica