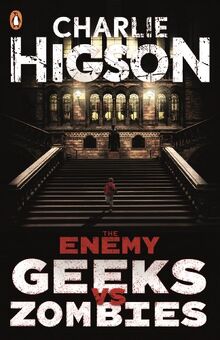 Published June 5th, 2012, Geeks vs Zombies is an E-book that takes place between The Fear and The Fallen, overlapping with the end of The Enemy. The story focuses on the kids living in the Natural History Museum in the days leading up to World Book Day.
The story begins with Jibber-Jabber and Wiki recruiting kids to celebrate World Book Day. They are trying to convince James Stornay to attend their party in the library in which they will dress up as their favourite characters from their favourite books. The two boys also invite Paul Channing but unknown to them, Paul has been bitten by Simon Foul - one of the sickos who is kept in the Tesco truck. Paul refuses to go, saying that it is insensitive to celebrate anything when only a few days ago his sister was killed. He acts hostile and thinks that nobody understands.
That night, Paul releases the sickos from the Tesco truck and unlocks the door to the museum basement, allowing the sickos from underneath to get into the museum and attack the kids. Meanwhile, James has been attempting to ruin the celebration of World Book Day. He shows up dressed as Harry Potter and acts like a jerk to the other attendees. James, Chris Marker, Wiki, Jibber-Jabber, Lettis, Thomas and Hattie are all caught by surprise when their party is crashed by the sickos from the truck - Simon Foul, Cheryl Cole and Louis Corpse. They try to fight off the sickos by throwing books at them. They are mostly successful but James later dies at the beginning of The Fallen. Paul escapes and travels to Buckingham Palace.
An excerpt of Geeks vs Zombies can be read on Google Books: https://books.google.com/books?id=EOKI9CbahqoC&printsec=frontcover&dq=geeks+vs+zombies&hl=en&sa=X&ei=T9N1VfPBF5P-yQSfqoPIAg#v=onepage&q=geeks%20vs%20zombies&f=false
Community content is available under
CC-BY-SA
unless otherwise noted.