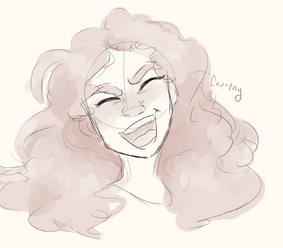 Courtney is a main character in The Fear and introduced in The Dead. Though Courtney technically appears in The Enemy, her identity and name are not mentioned, so it is assumed that she is an unimportant character.
Before the disease
Edit
Not much is known about Courtney's life before the disease broke out but it is mentioned that she (along with Aleshia and Brooke) was on a school trip to Bilbao, Spain when the disease started and she originally came from London.
The Dead
Edit
Courtney was first introduced in The Dead on the coach and was a girl who wore too much make-up, too much perfume and had big hair. She was described as being fat and grumpy. Later on in the books, she becomes a lot more hardcore. She evacuated the bus when Greg got sick and stayed at the Imperial War Museum until the fire. She then moved to settle at the Tower of London along with Ed.
The Fear
Edit
In The Fear, it is revealed that she has a crush on DogNut and that was the main reason why she went with him across London to find Brooke. She dies from wounds and from cracking her skull during the battle with Gym Bunnies at Green Park.
Community content is available under
CC-BY-SA
unless otherwise noted.